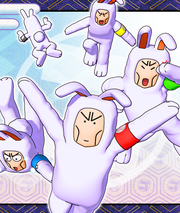 They are Magginesu's minions. They are men in bunny costumes each one with a different color and name assigned: Blue Maburu, Red Maburu, Green Maburu, Yellow Maburu and Black Maburu. They first appeared in Ganbare Goemon 2 
In this game they help Magginesu invade Japan. They all guard a different castle, where they await with a new monster or robot to stop Goemon from reaching Magginesu's flying fortress.
Ganbare Goemon Pachislot 2
Edit
Once again they are assisting Magginesu during this game
Ad blocker interference detected!
Wikia is a free-to-use site that makes money from advertising. We have a modified experience for viewers using ad blockers

Wikia is not accessible if you've made further modifications. Remove the custom ad blocker rule(s) and the page will load as expected.