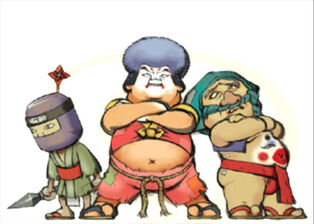 Mr. Goemon Team (Mr.五右衛門団)are a group of thieves that disguise themselfs as Goemon,Ebisumaru and Sasuke.
Ganbare Goemon Toukai Douchuu Ooedo Tengurigaeshi no Maki
Edit
In the game Mr. Goemon team lives in a really poor village, they decided to help Admiral Peruri get the mystical items to restore the village. they started causing a lot of trouble in the horo horo temple at the beginning of the game. The people of ooedo tought they were Goemon and Ebisumaru and captured them instead. At the end goemon becomes the magistrate and gives them the job of restoring their village.
Ad blocker interference detected!
Wikia is a free-to-use site that makes money from advertising. We have a modified experience for viewers using ad blockers

Wikia is not accessible if you've made further modifications. Remove the custom ad blocker rule(s) and the page will load as expected.