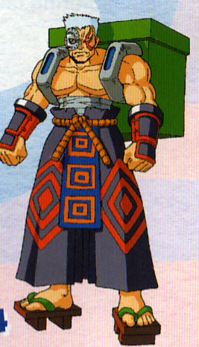 Kabuki 64 is a re-vamped villain originally from Ganbare Goemon 2, but makes his reappearance in Goemon's Great Adventure for the Nintendo 64. His goal is to get revenge on the team for his defeat in the past. He wields two geta as weapons. He appear in two different Forms, first is his Human-form and second a Giantrobot-form.
Ad blocker interference detected!
Wikia is a free-to-use site that makes money from advertising. We have a modified experience for viewers using ad blockers

Wikia is not accessible if you've made further modifications. Remove the custom ad blocker rule(s) and the page will load as expected.